Your postal domiciliation + a phone number for only

60€

per month

.
With this solution the Business Center "l'Espace Entreprise" of Montpellier is putting at your disposal the Voice to Mail et Fax to Mail technologies which will allowe you to beneficiate of a classic postal domiciliation while having a phone number (which can be local) or a fax number associated to this adress. Then you will have the choice between transferring the calls on another phone line or to beneficiate of the Voice to Mail technology which will give you the possibility to avoid the transfer costs by receiving directly and in real time the messages from your clients, partners and suppliers directly on your inbox.
Concerning the

Fax to Mail technology it will allow you to receive all your faxes on your inbox in PDF files. You will be able to reduce your printing costs by printing only the faxes really important for you. You can choose this service instead of the Voice to Mail service or in addition for 15€ more per month.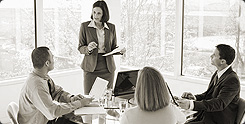 Possibility of associating the Voice and Fax to Mail services as well as other phone numbers than local ones.
CASE STUDIES
of the PACK LIGHT TEL OFFER

from the Business Center "L'Espace Entreprise" of Montpellier