A brand new reservation center
of

meeting rooms

of a new style in Montpellier.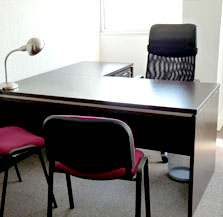 To best meet your needs the Business Center"l'Espace Entreprise" of Montpellier has set up a reservation center to offer you the largest choice of meeting/training rooms in Montpellier.
Even in the case that the rooms from the Business Centerl'Espace Entreprises of Montpellier were not available or not corresponding to your needs in term of capacity (more than 20 participant), type of event (banquet, ...) or the set up (amphitheater, scene, etc.), we will be able to find the best answer to your needs.
CASE STUDIES
RESERVATION CENTER
(MEETING ROOMS SEARCH)
from the Business Center L'Espace Entreprise of Montpellier

The reservation center from the Business Center l'Espace entreprises of Montpellier is giving the opportunity to the entrepreneurs and CEOs to obtain a return on their avalaible premises. Because the time is favorising the pooling and the optimization of the resources, the Business Center "l'Espace Entreprise" of Montpellier has decided to develop an innovative offer allowing the businesses with entirely or partially unoccupied in order to optimize and generate income by renting it to companies looking for available premises.


CASE STUDIES
RESERVATION CENTER
(MEETING ROOMS OFFER)
from the Business Center L'Espace Entreprise of Montpellier